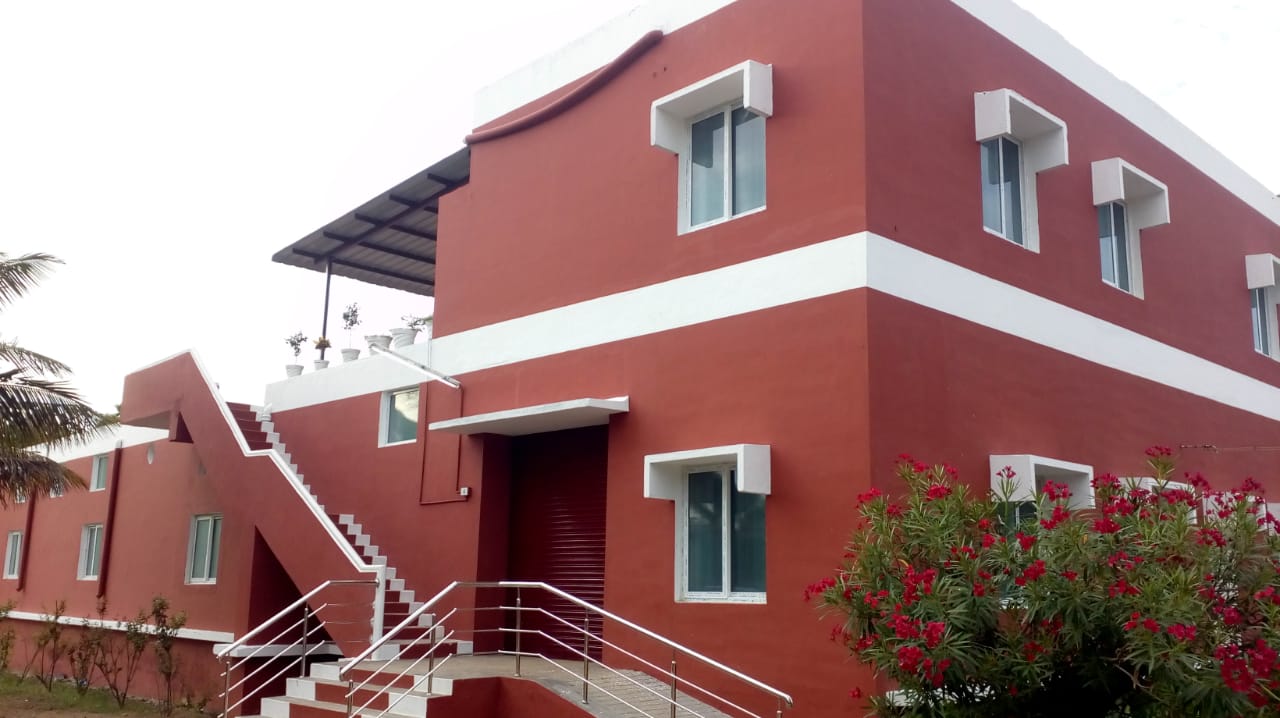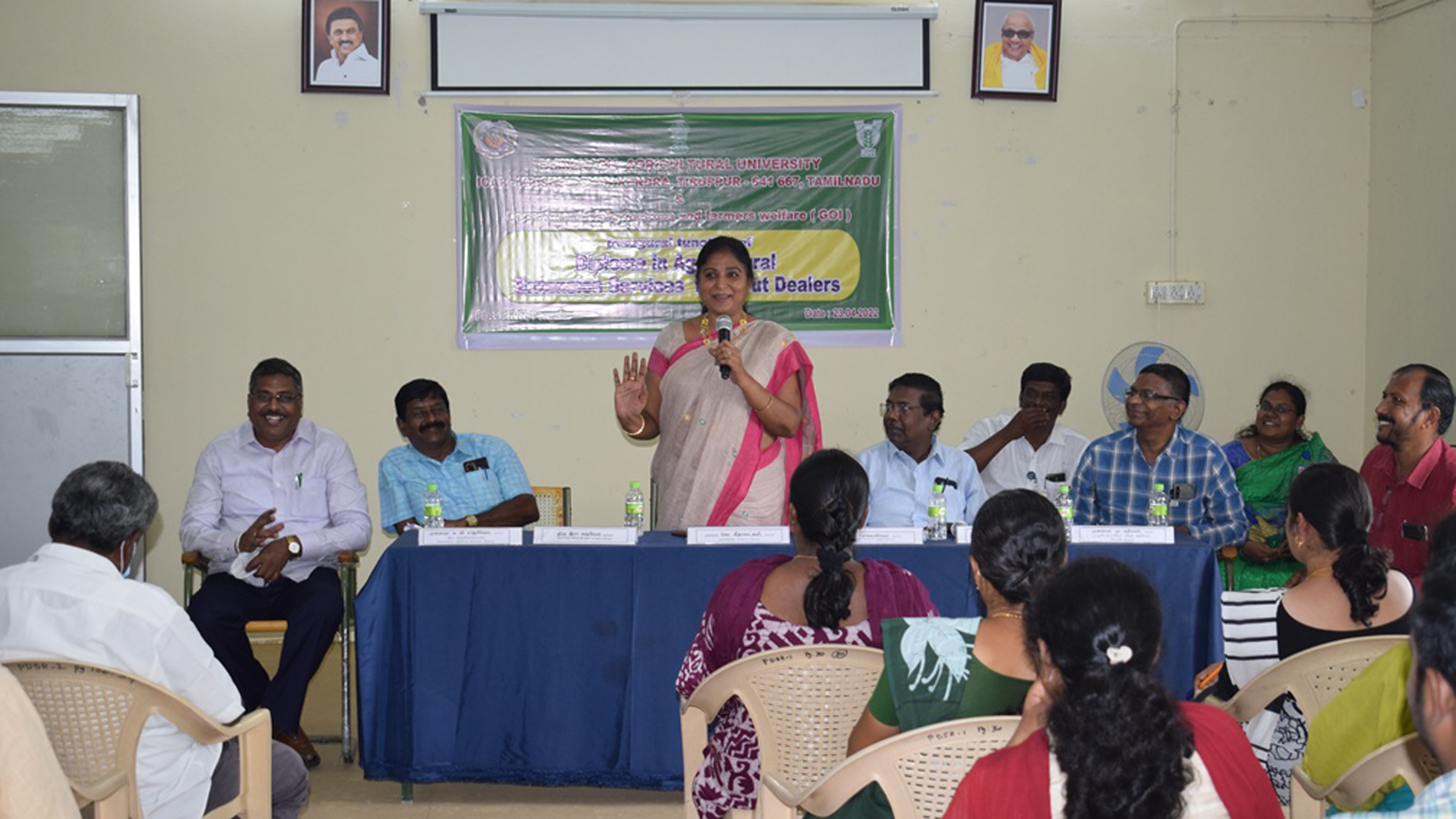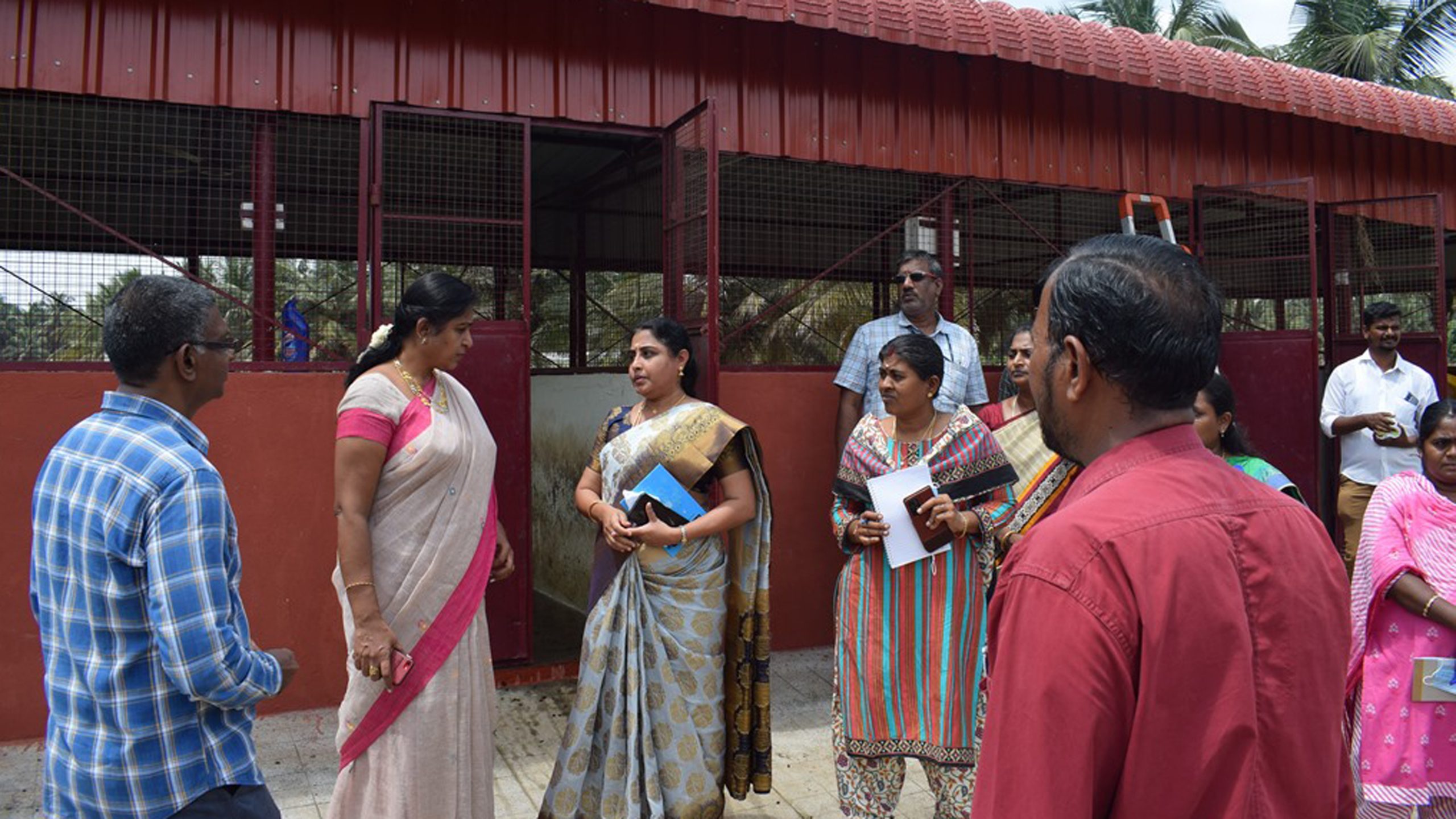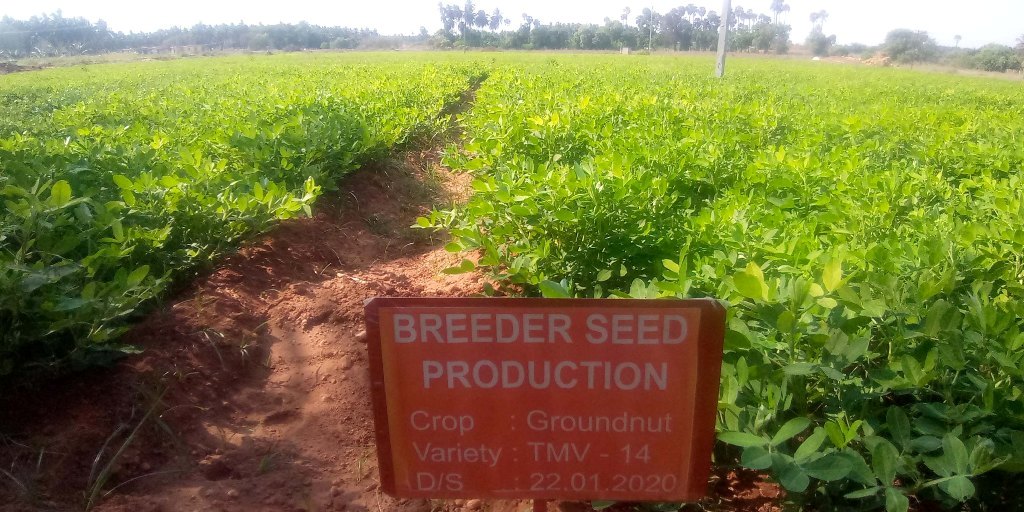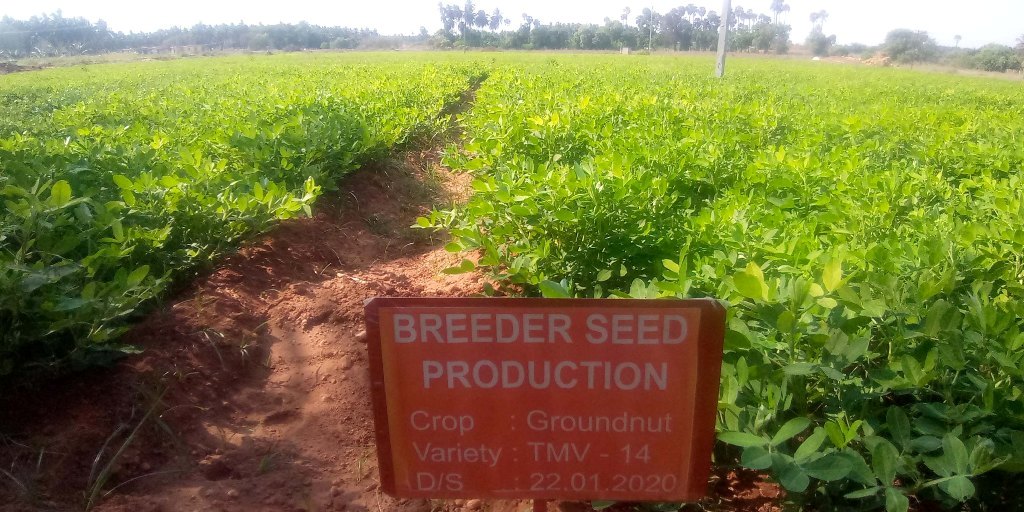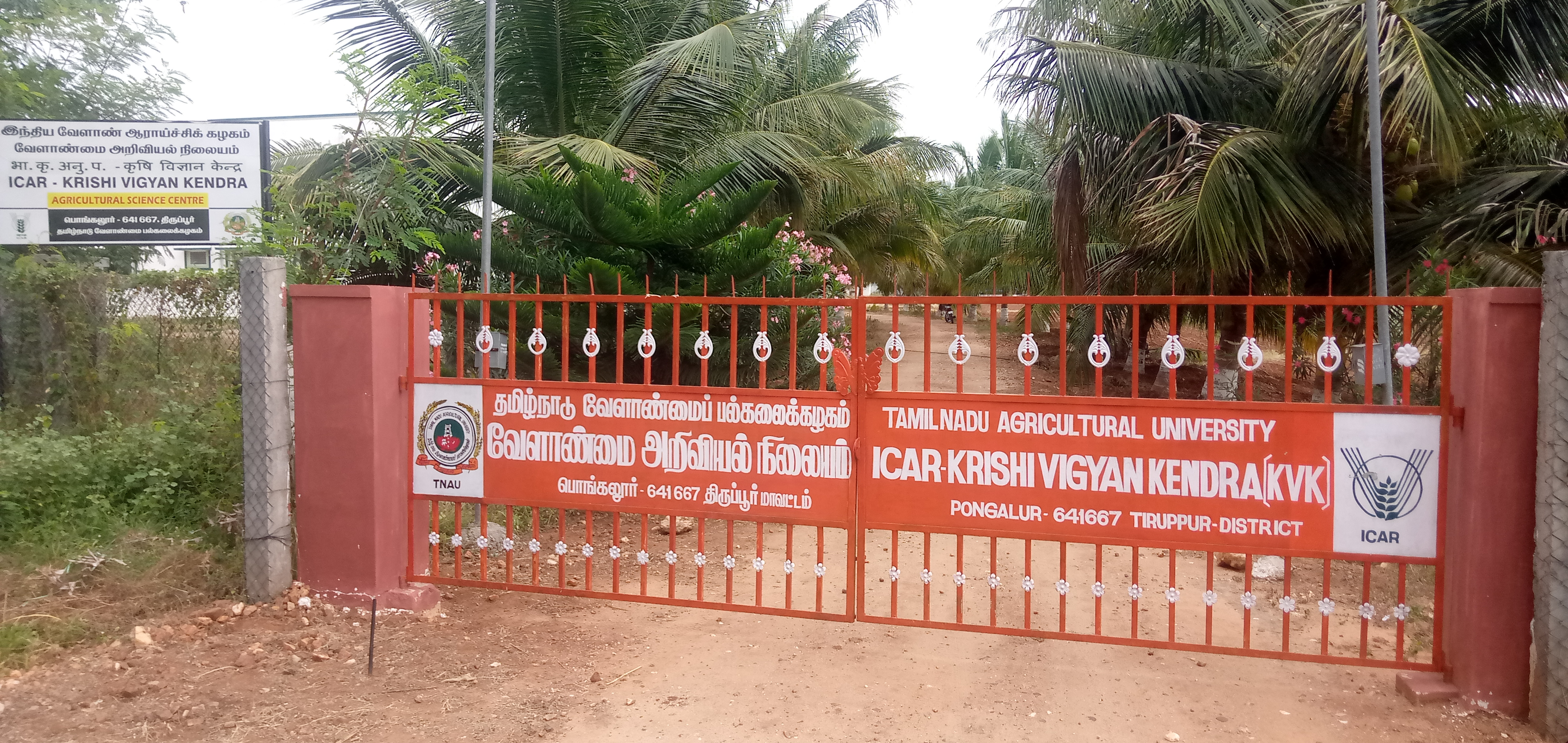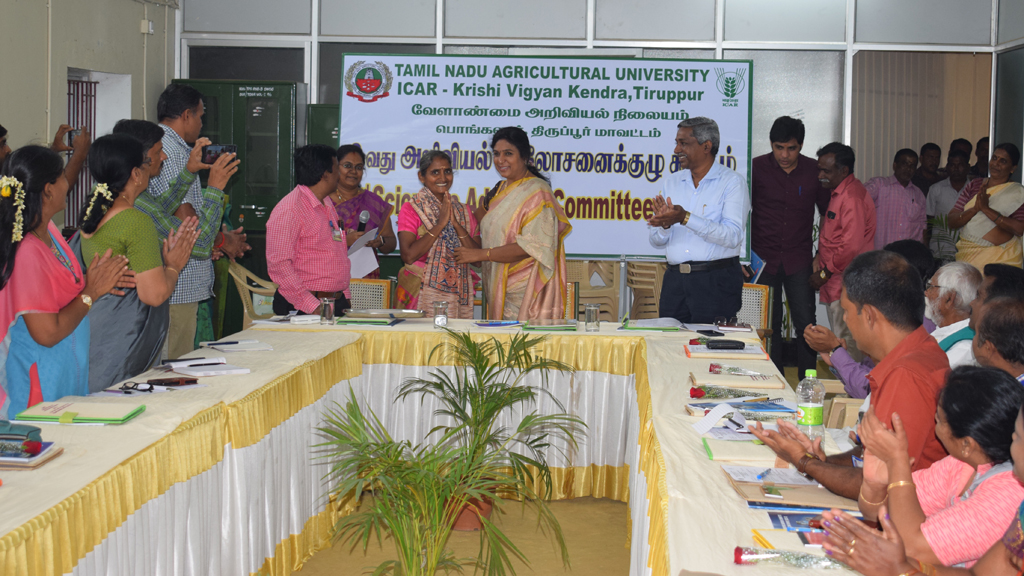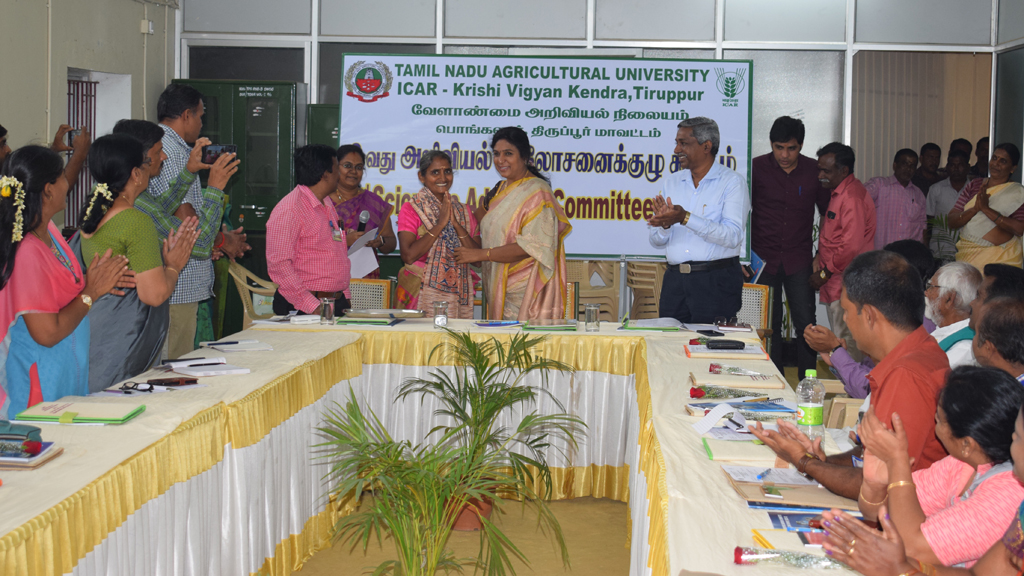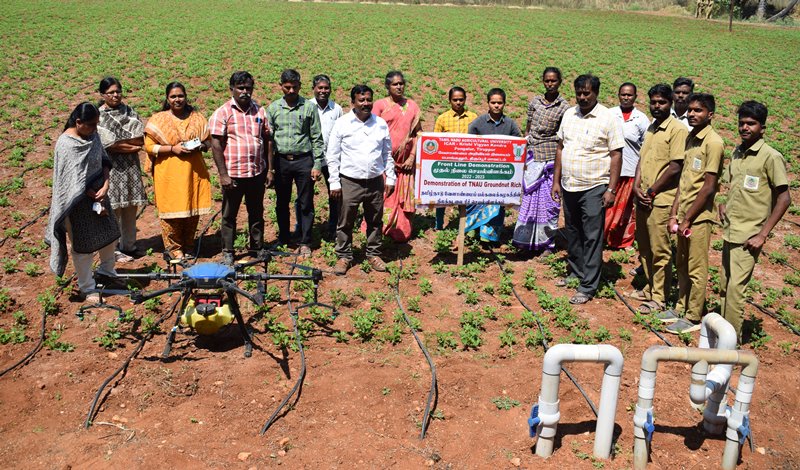 Mandates
Conducting On Farm Testing (OFT) to identify the location specificity of agricultural technologies in terms of location specific sustainable land use under various farming systems.
Organizing Front Line Demonstrations (FLD) to establish production potential of various crops and enterprises on the farmer's field to generate production data and feedback information. Read more
About KVK
The Krishi Vigyan Kendra– Tiruppur District & Tamil Nadu Agricultural University (TNAU) – Coimbatore, Government of Tamilnadu, Welcomes you to the Official website with detailed information about our Departments and our official activities.
The Krishi Vigyan Kendra(KVK) sponsored by Indian Council of Agricultural Research (ICAR), Government of India was established in Pongalur, Tiruppur District, Tamilnadu, India on 1st July 2019 with the major objective of Transfer of Technology in agriculture and allied fields. It is a multidisciplinary hub catering to the needs and aspirations of different farmers and stake holders from innovation to decision making process to adoption.
The Krishi Vigyan Kendrais a District Knowledge Resource Centre functioning under Tamil Nadu Agricultural University with sponsorship of ICAR at Pongalur, Tiruppur district.  The focus of the Kendra is to provide district specific technical backstopping to the stakeholders to bridge the yield gaps through various innovative transfers of technology interventions. The main aim is to increase the agriculture output and thereby improve the socio-economic level of Tiruppur District Agriculturists. The Kendra is implementing activities in different disciplines viz., Agronomy, Plant protection, Horticulture, Seed Technology, Agricultural Engineering, Social Sciences, Animal Husbandry, Home Science and Soil Science in form of technology assessment, refinements, demonstrations, trainings and entrepreneurs development programmes as per the mandates laid out by TNAU and ICAR
Krishi Vigyan Kendra, Pongalur, Tiruppur is situated in the Palladam – Trichy National Highway (NH-81) at Pongalur village, Devanampalayam post, Palladam Taluk and zip code 641 667. It is 14 Kms away from Tiruppur town, its located at 10°58'N 77°23'E / 10.97°N 77.38°E.
Our KVK is one among the 14 KVKs of Tamil Nadu Agricultural University started in the year 2019 (01.07.2019) to cater the needs and solve the problems of farmers of both Tiruppur and Coimbatore Districts. It is spread in an area of 15.62 ha (05 acre ) of land adjoining to PAP canal system situated 2 km away from the Pongalur town on the road of Pongalur to Kangayam with existing infrastructure facilities, the farm has big storage godown in ground floor, threshing yard, three office rooms in first floor and five quarters (7 houses) in western end of the farm.
Further, around farm has boundary – wired fencing. electrical motors, pump house, bore well, Solar panel with motor, open well and etc.,
Also TNAU farm Pongalur has 143 nos. of live coconut trees (1ha) and live 165 nos. of Oil palm trees (1 ha). land available for cultivation of crops (6.5 ha) and agro forestry (1.2 ha).
| | |
| --- | --- |
| KVK Inputs sales -Queries | Tmt. A. Manickavalli., PA(T). |
| Check Availability & Booking | Please contact + 91 6379465045 |
S.N
Item Particulars
Item Code
Qty
Rate (Rs.)
I
Formulation (Micro nutrient mixtures)
Mango booster
mb
1 kg
No Stock
TNAU Maize Maximum
mm
1 kg
Against order
Banana booster
bb
1 kg
No Stock
Vegetables Micro Nutrient mixture (IIHR Veg Spl)
nm
1 kg
No Stock
TANUVAS Mineral Mixture
tmm
1 kg
No Stock
TNAU Groundnut Rich
gr
1 kg
TNAU Sugarcane Booster
sb
1 kg
No Stock
TNAU Pulse wonder
pw
1 kg
Coconut  Tonic
ct
Pkt
No Stock
Coconut  Concentrate
cc
1 lit
325
TNAU Cotton Plus
cp
1 kg
No Stock
II
Bio Fungicides
Trichoderma viride
tv
1 kg
168
Pseudomonas fluorescens
pf
1 kg
168
III
Organic manure (Pot culture media)
Vermi compost
ver
1 kg
12
Cocopeat
coc
1 kg
No Stock
Coir pith compost
coi
1 kg
No Stock
IV
Bio Agents
Earthworm
ew
1 kg
No Stock
Earthworm
ew
1 kg
No Stock
V
Bio Fertilizers
Azolla
az
1 kg
50
VI
Bio Control Agents
Azospirillum
1 kg
60
Phospho Bactria
1 kg
60
VII
Planting Materials
Moringa
No Stock
VIII
Vegetable Seed
Vegetable seed pocket (20 g each)
[Tomato COTH 3, chillies TNAU Hy  CO, Brinjal co-2, Amaranthus CO 1, Ridgegourd co-1, Bhendi COBh 1, Bottle gourd Co1 , Ash gourd Co1, Amaranthus PLR 1 & Co 1]
Vs
1 pkt
No Stock
Vegetable seed kit  (5 kind of seed)
[Tomato PKM1, Bitter gourd C01, Pumpkin CO1, Ash gourd Co1, Amaranthus PLR 1, Chillies K1]
Vsk
1 pkt
No Stock
XI
Certified seed
VBN 10 Black gram Certified
1 kg
130
KVK Pongalur – Media coverage
| Year | Month | Day | Topic | Mode | Attachment |
| --- | --- | --- | --- | --- | --- |
FY 2022-23
| Sl. | Lead Agency | Project Title | Role of KVK | Year of Start | Duration (Years) | Other collaborative Agency | Project Outlay (Lakh) | Progress  |
| --- | --- | --- | --- | --- | --- | --- | --- | --- |
| 1. | ICAR | ICAR KVK Main | Main Scheme – Non Plan | 2019 | Continuous | TNAU | 430.92 | On going |
FY 2021-22
| Sl. | Lead Agency | Project Title | Role of KVK | Year of Start | Duration (Years) | Other collaborative Agency | Project Outlay (Lakh) | Progress  |
| --- | --- | --- | --- | --- | --- | --- | --- | --- |
| 1. | ICAR | ICAR KVK Main | Main Scheme – Non Plan | 2019 | Continuous | TNAU | 200.82 | On going |
| 2. | CDB | Training on Friends of Coconut Tree | 6 Days Training Programme, Demonstration, Practicals and Assessment | 2021 | 1 year | Coconut Development Board | 0.445 | Completed |
| 3. | GoTN | Development of Integrated Nematode management package for Agroforestry systems | | 2021 | 3 Years | Department of Agricultural & Horticulture | 10.1 | On going |
| 4. | SPC – SBGF (GoTN) | SBGF project proposal on "Ensuring nutrition through establishment of nutri gardens – A Panacea for students during COVID Pandemic with project cost of Rs.15,51,000/- was received from SBGF through DEE | | 2020 | 1 Year | Government Schools | 15.51 | On going – Conducted Online Training on the 'Importance of Nutrition gardens for ICDS workers and their beneficiaries' 23.09.2021 for 109 AWW workers,ICDS |
| 5. | ICAR | SCSP-Livelihood Enhancement through various farm Enterprises in Tiruppur District | | 2021 | 1 Year | – | 15.6 | On going |
| 6. | ICAR | CFLD Chickpea | | 2021 | 1 Year | – | 1.8 | On going. |
| 7. | ICAR | Swachhta Hi sewa 2021 | | 2021 | 1 Month | – | 0.1592 | Conducted from 02.10.21 to 31.10.21 at KVK premises Pongalur and near by villages. |
| 8. | ICAR | DAMU – District Agromet services | | 2020 |  – | – | 0.6 | On going |
| 9. | TNAU (GoTN) | Project entitled "Capacity Building of Farmers through Training Programmes on Profitable Dairy Farming and Livestock Management | | 2021 | 1 Year | – | 2.00 | On going |
FY 2020-21
| Sl. | Lead Agency | Project Title | Role of KVK | Year of Start | Duration (Years) | Other collaborative Agency | Project Outlay (Lakh) | Progress  |
| --- | --- | --- | --- | --- | --- | --- | --- | --- |
| 1 | ICAR KVK Main | ICAR | Main Scheme – Non Plan | 2019 | 1 year | TNAU | 215.77 | On going |
| 2 | DAMU – District Agromet services | ICAR | Agro Advisory Scheme | 2020 | 1 year | TNAU | 1.2 | 1 Kisan Mela Conducted on 06.08.2019 at Pongalur |
| 3 | CFLD Pulses | ICAR | Trail, Demonstration & Trainings | 2020 | 1 Day | – | 1.8 | Yet to be Start |
| 4 | SCSP | ICAR | Conduct Training programme | 2020 | 1 Year | – | 15.6 | Yet to be Start |
| 5 | Swatchaa Hi Seva (Swatchh Bharath I) | ICAR | Conduct Awareness & Training programmes, Campaigns | 2020 | 1 Month | State Department of Agriculture and Horticulture | 0.142 | Conducted from 02.10.20 to 31.10.20 at KVK premises Pongalur and near by villages. |
| 6 | Swatchaa Hi Seva (Swatchh Bharath II) | ICAR | Conduct Awareness & Training programmes, Campaigns | 2020 | 1 Month | State Department of Agriculture and Horticulture | 0.141 | Conducted from 02.10.20 to 31.10.20 at KVK premises Pongalur and near by villages. |
FY 2019-20
| Sl. | Lead Agency | Project Title | Role of KVK | Year of Start | Duration (Years) | Other collaborative Agency | Project Outlay (Lakh) | Progress  |
| --- | --- | --- | --- | --- | --- | --- | --- | --- |
| 1. | ICAR | ICAR KVK Main | Main Scheme – Non Plan | 2019 |  – | TNAU | 156.9 | On going |
| 2. | ICAR | Jal Sakti Abhiyan | Kisan Mela | 2019 | 1 Year | State Department of Agriculture and Horticulture and other line departments | 3 | 1 Kisan Mela Conducted on 06.08.2019 at Pongalur |
| 3. | ICAR | Environmental Awareness and Tree Plantation | Tree plantation and created awareness | 2019 | 1 Day | Vanam Foundation | | 1000 saplings distributed (Neem – Azardiracta indica , Rose wood – Dalbergia latifolia, Red sandels  – Petrocarpous santalinus, Pungam – Pongamea pennate, Casuarina exqusite folio), awareness programme conducted |
| 4. | ICAR | Fertilizer Application Awareness Programme | Conducted Training programme | 2019 | 1 Day | State Department of Animal Husbandry | 0.50 | Conducted on 19.10.19 at Kongu Kalaiyarangam, Avinashi. |
| 5. | ICAR | Foot Mouth Disease (Animal Husbandry) | Conduct Training programme and Animal Health Camp | 2019 | 1 Day | State Department of Agriculture and Horticulture and other line departments and SPIC Ltd., | 0.15 | Animal Health Camp Conducted on 11.09.19 at Anupatti, Karadivavi. |
| 6. | ICAR | Swatchaa Hi Seva (Swatch Bharath Abhiyan) | Conduct Awareness & Training programmes, Campaigns | 2019 | 1 Day | State Department of Agriculture and Horticulture and other line departments and SPIC Ltd., | 0.25 | Conducted from 11.09.19 to 02.10.19 at KVK premises Pongalur and near by villages. |