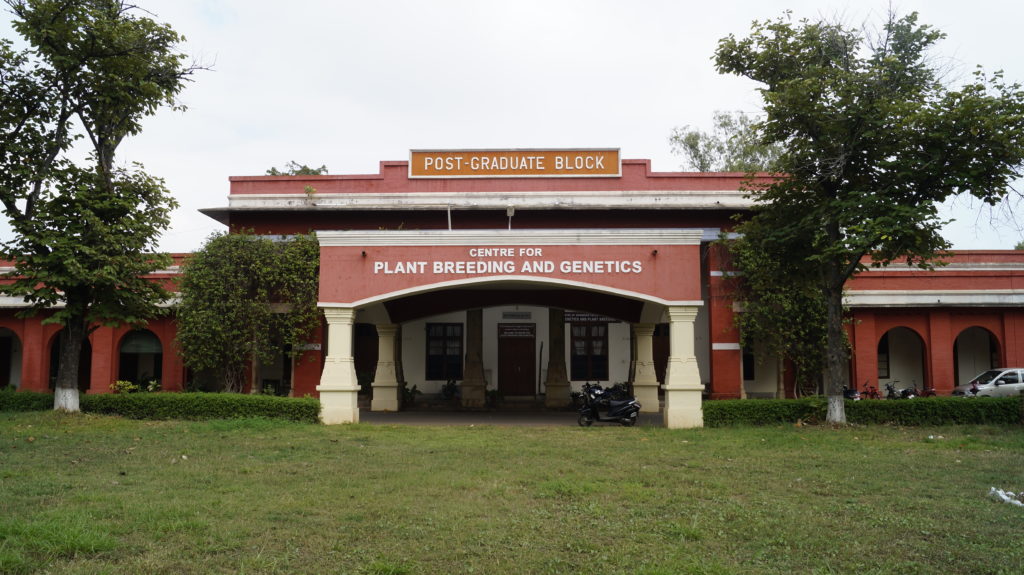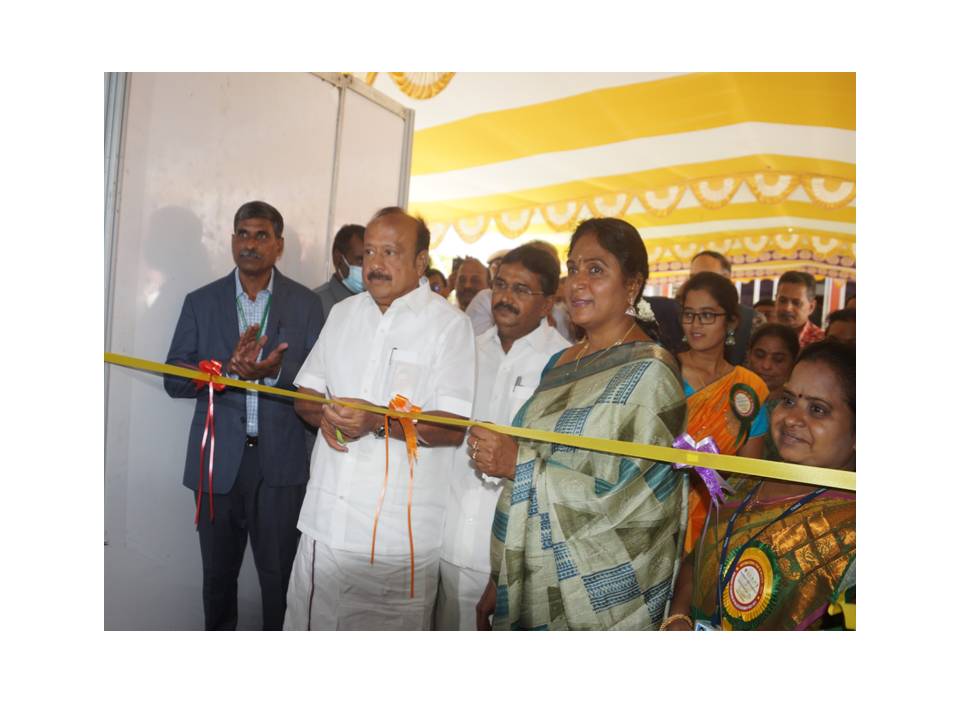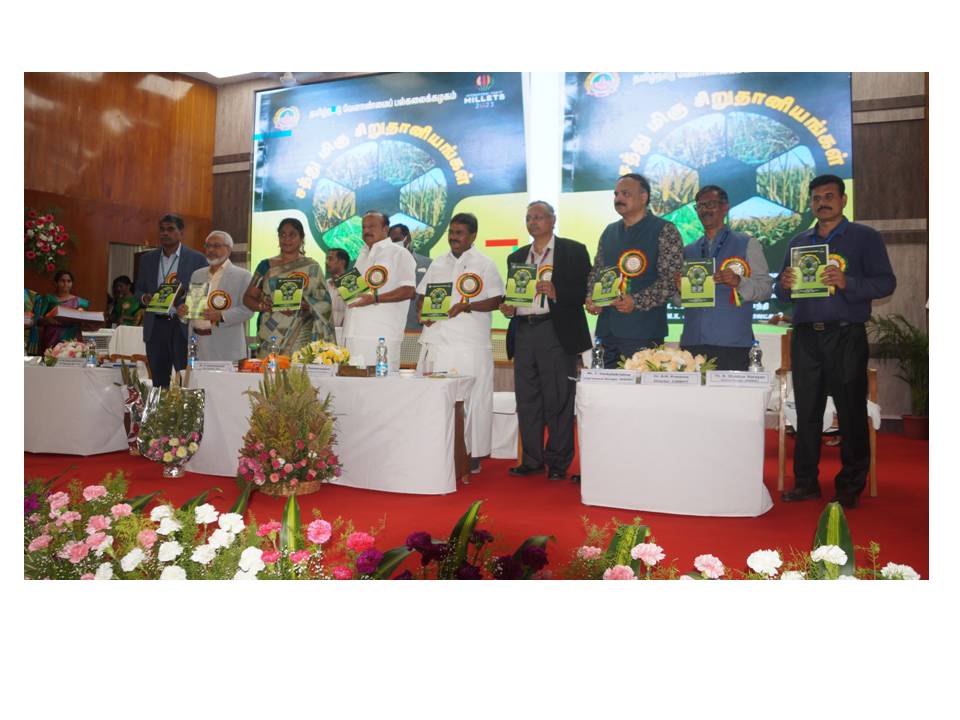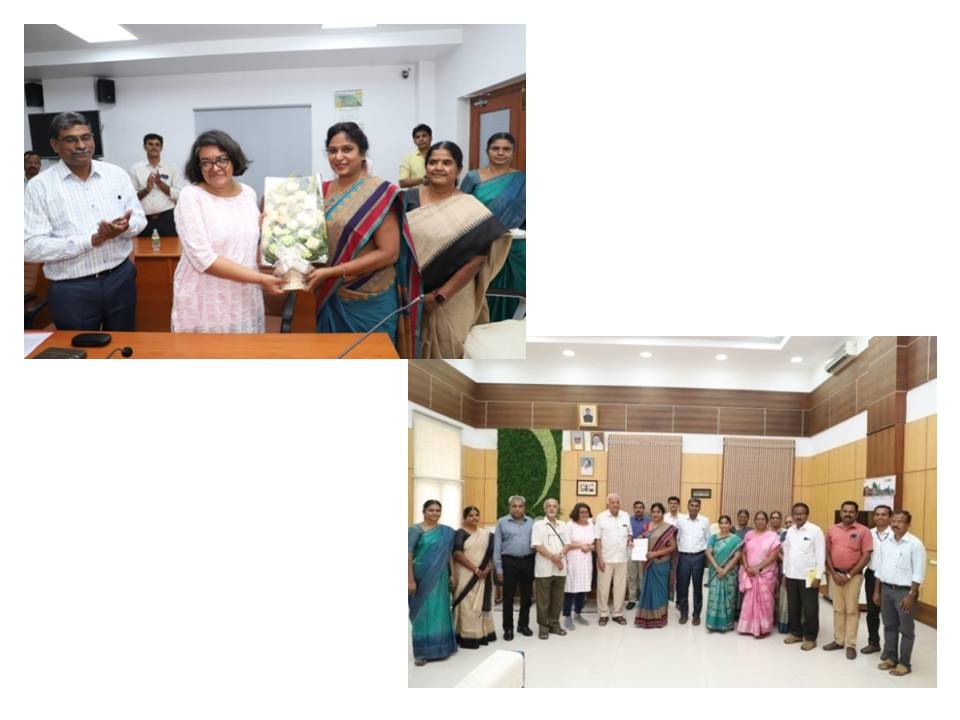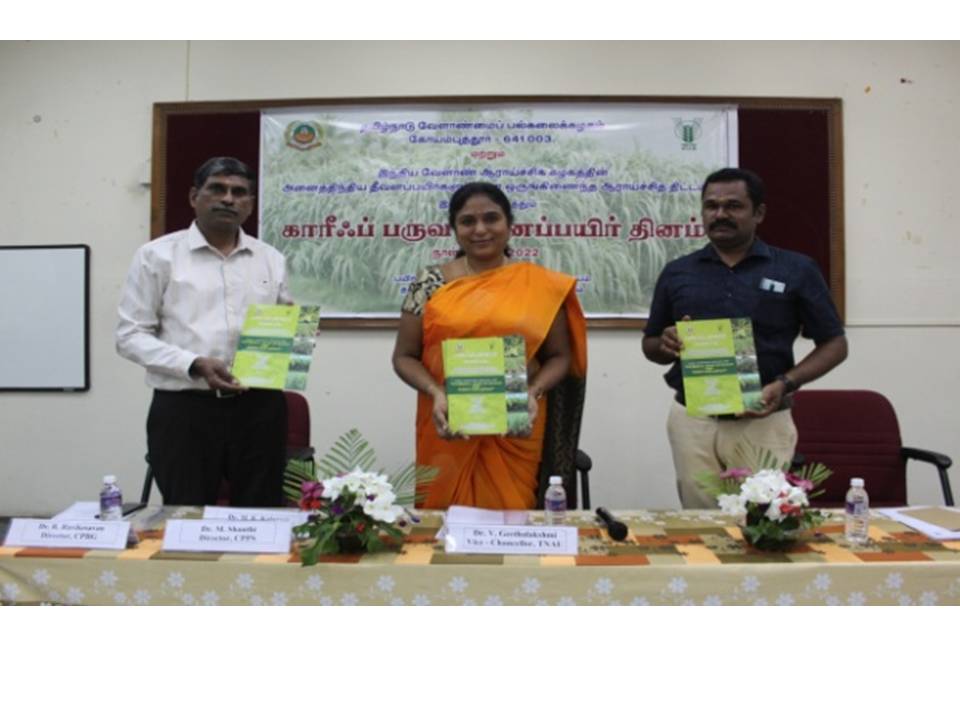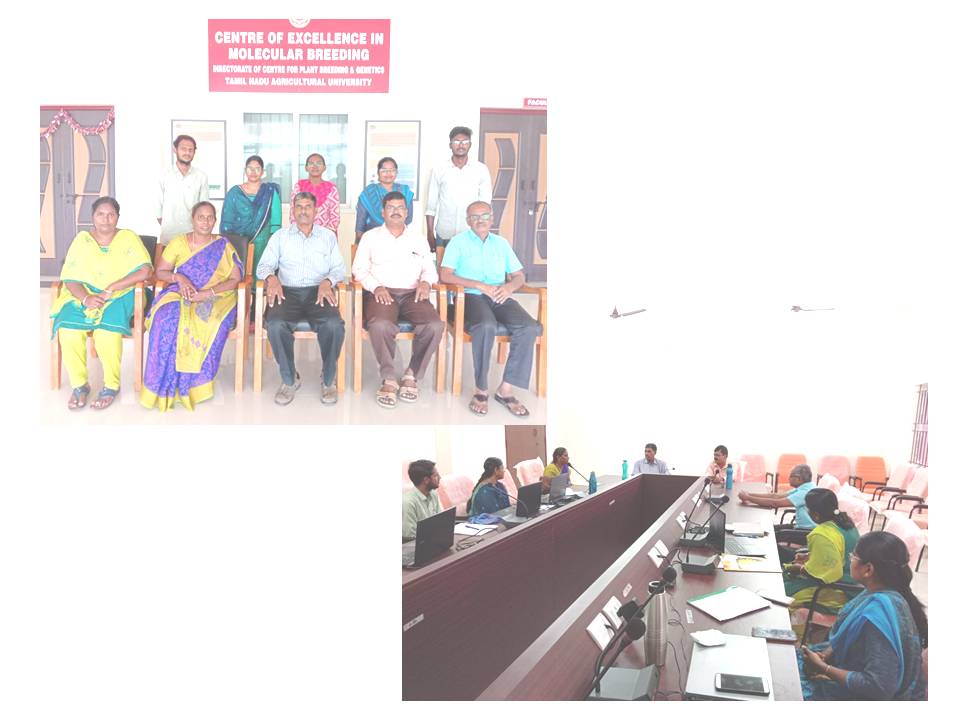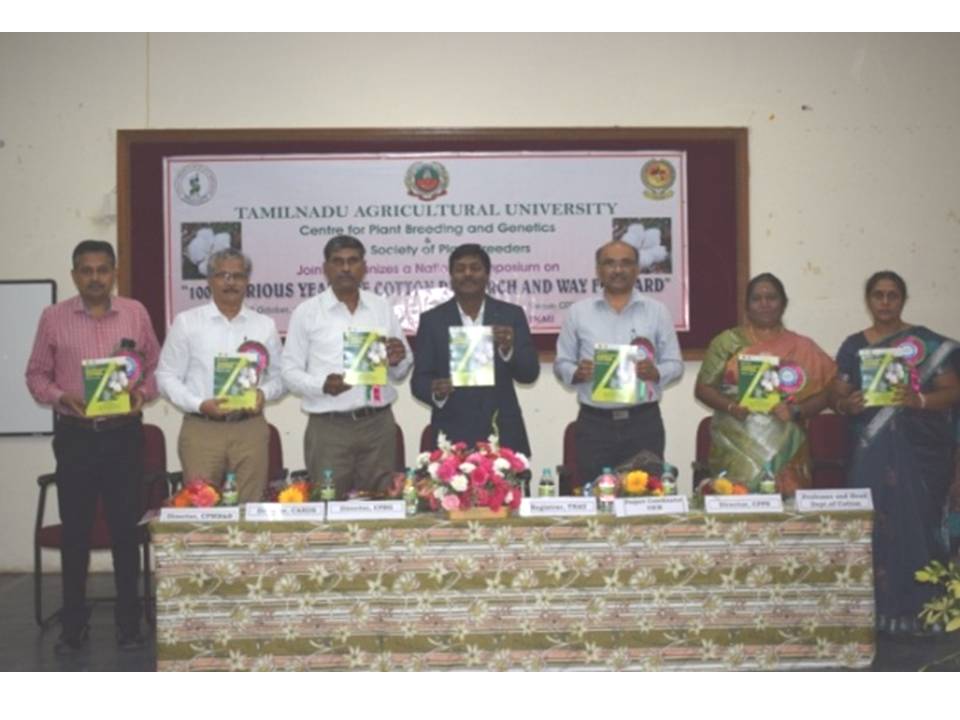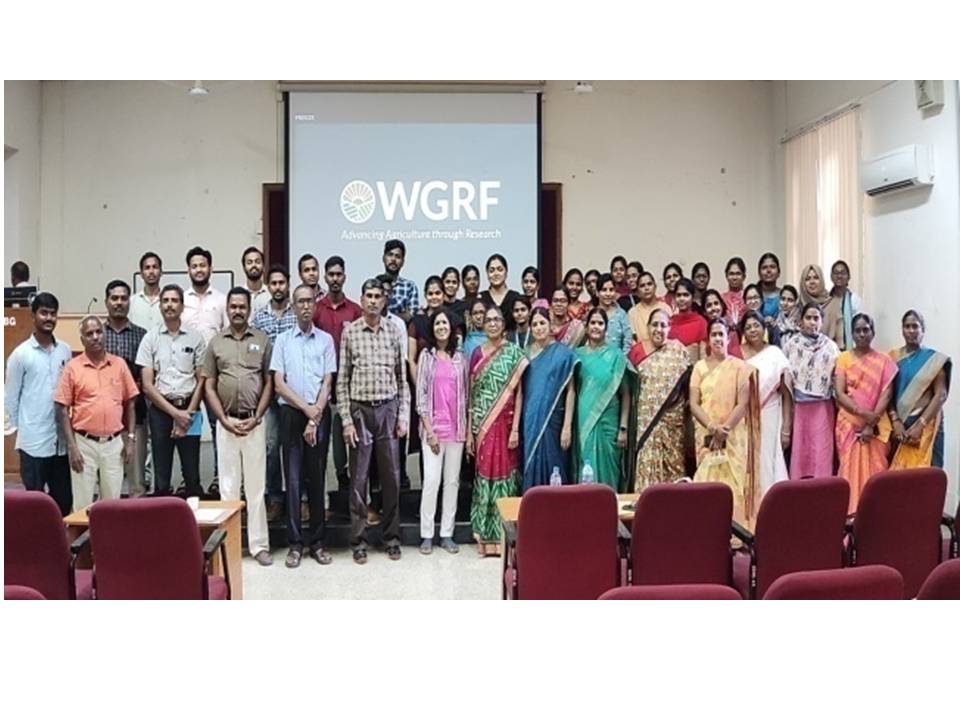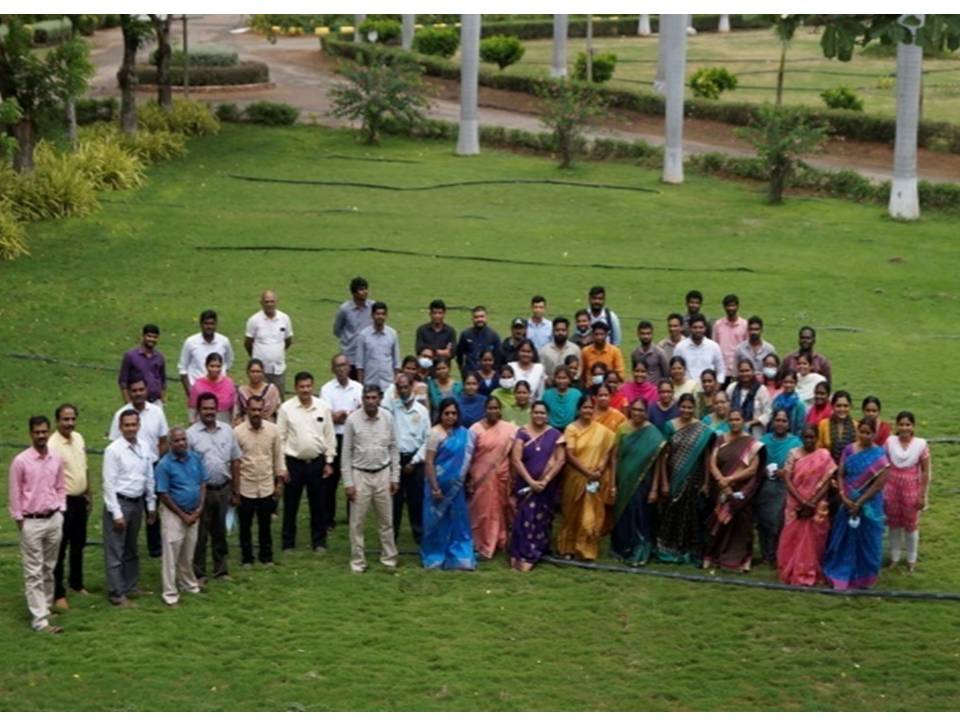 DIRECTORATE OF CENTRE FOR PLANT BREEDING AND GENETICS
INTRODUCTION
The Directorate of Centre for Plant Breeding and Genetics is being a major Centre in TNAU involved in crop improvement activities and comprised of eight departments viz., Department of Rice, Department of Millets, Department of Pulses, Department of Oilseeds, Department of Cotton, Department of Forage Crops, Department of Plant Genetic Resources and Department of Genetics and Plant Breeding. The Breeder Seed Unit functioning under this Directorate is monitoring and coordinating the Breeder Seed Production of entire Tamil Nadu for both Agricultural and Horticultural Crop.The mandates of this directorate includes teaching, research  and extension ie., handling  courses on  Genetics, Cytogenetics, Plant Breeding and PGR related courses to UG, PG and Ph.D students through quality teaching, conducting research on crop varietal development and dissemination of knowledge on crop varieties to the farmers. It is one of the highly reputed Directorate which is the main centre for many of All India Coordinated Research trials (AICRP) of various crops. Many network research projects are handled in various departments of this Directorate in collaboration with National and International Institutes.This Directorate is monitoring and coordinating all the teaching and research activities of entire TNAU with respect to Plant breeding and Genetics.
VISION AND MISSION
To ensure quality teaching in the Genetics, Cytogenetics and Plant Breeding related subjects and also to facilitate quality research work of PG and Ph.D students.

To impart capacity building to students through trainings and guidance

To Collect, evaluate, maintain and characterize the genetic resources of field crops 

To conserve the valuable crop genetic resources by

in-situ

methods and under controlled conditions 

To evolve superior

crop

varieties/hybrids with high yield, quality, biotic and abiotic stresses 

using

classical and also using biotechnological tools 

To conduct multidisciplianry research for pyramiding multiple traits in crop varieties 

To ensure quality seed production of seed chain of notified varieties  

To disseminate the knowledge on latest farm technologies to the farmers through on farm and off farm mode.
GENESIS
Botanical research work in the Madras State was initiated as early as in 1898 with the appointment of a separate Economic Botanist for Sugarcane. By 1907, Agricultural College and Research Institute was started at Coimbatore for offering Agricultural Education besides conducting research and extension. For paying more attention to the research of various crops, separate breeding stations were established for various crops.  In 1912 during the British colonial period, one Government Economic Botanist (GEB) was posted at Coimbatore to initiate research and thus Paddy Breeding Station, the oldest rice research station came into existence. Later, other breeding stations for Cotton (1922), Millets (1923), Oilseeds (1940), Pulses (1943) and Forages (1976) were established with the leadership of crop specialists under the umbrella of Department of Agricultural Botany in 1971. Recognizing the importance of crop breeding, the Department of Agricultural Botany was upgraded into a Directorate and designated as "School of Genetics" from 1.3.1980. Later during 1997, the Directorate was re-designated as "Centre for Plant Breeding and Genetics". In due course, two more separate departments viz., Plant Genetic Resources and Genetics and Plant Breeding were established on 2009 and 2019 respectively.
LOCATION
The Directorate is located at an elevation of 426.72 m, between 11o N latitude and 77o E longitude with an average rainfall of 670 mm per year. Various crop based Departments of this Directorate are involved in multidisciplinary research with a team of well-trained scientists for crop improvement, crop management and crop protection.
ACTIVITIES
Offering courses on Genetics, Cytogenetics, Plant breeding  for UG and PG and Ph.D students 

Supporting postgraduate (PG and PhD ) students research 

Evolving new varieties/hybrids in important agricultural crops for the benefit of farmers.

To conduct basic and applied research in Botany, Genetics,  Cytogenetics and Plant Breeding

Characterization of germplasm accessions

in important agricultural crops

Preserving the available plant genetic resources without loss of viability under controlled conditions.

Generating pre breeding plant genetic material

by utilizing wild species and land races for quality, pest and disease resistance.

Applying marker assisted tools with classical approaches to introgress critical traits 

To conduct of AICRP trials of various crops for the evaluation of test entries for all over India. 

Identification of new donors for major biotic and abiotic stresses

Monitoring and coordinating Nucleus and Breeder seed production of entire TNAU

Producing and supplying nucleus/breeder seeds/planting material of notified varieties/hybrids of different crops. 

Imparting training to field staff/ Veterinarians/ Agrl. Officers/farmers

etc.

on "Improved varieties/hybrids and production technologies". 

Production of quality seeds through farmers participatory mode.

Capacity building of young breeders of TNAU through appropriate trainings on updated breeding methodologies 

Being the Centre for Advanced Faculty Training, conducting 21 days training programme for the scientists from all over India (once in a year).
AWARDS & HONOURS (2012 - 2019)
S.No.

Departments
Year

Award

1.

Department of Rice

2012

TNAU Best Department award by TNAU

2.

2012

Best AICRIP Breeding Centre Award at All India Level by ICAR

3.

2014

Best AICRIP Centre Award in Rice Physiology by ICAR

4.

2015

Best AICRIP Research Centre Award over 50 years by ICAR

5.

Department of Millets

2011

Best stall award CODISSIA: AGRI INTEX 2011

6.

2014

Best AICRP centre award for Maize

7.

2015

Best AICRP centre award for Maize

8.

2019

Best AICRP centre award for Sorghum

9.

Department of Forage Crops

2017

Best AICRP centre award at all India level by ICAR

10.

2018

Best Seed production centre award by TNAU

11.

2018 -2022

HATSUN Chair Assistant Professor scheme, HAPL, Chennai
Departments
Department of Rice

Department of Millets

Department of Pulses

Department of Oilseeds

Department of Cotton

Department of Forage crops

Department of Plant Genetic Resources

Department of Genetics and Plant Breeding