Advanced Digital Language Lab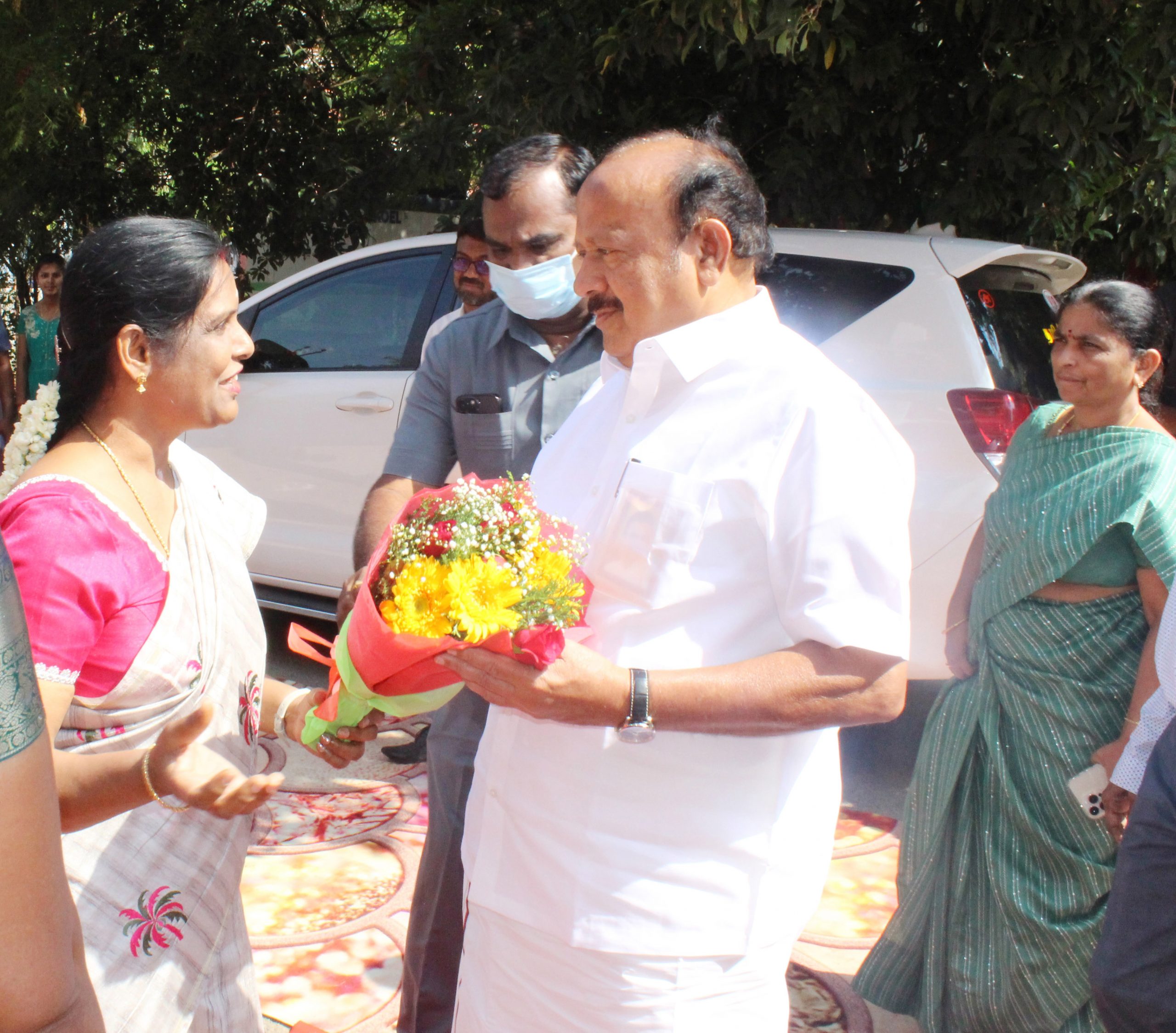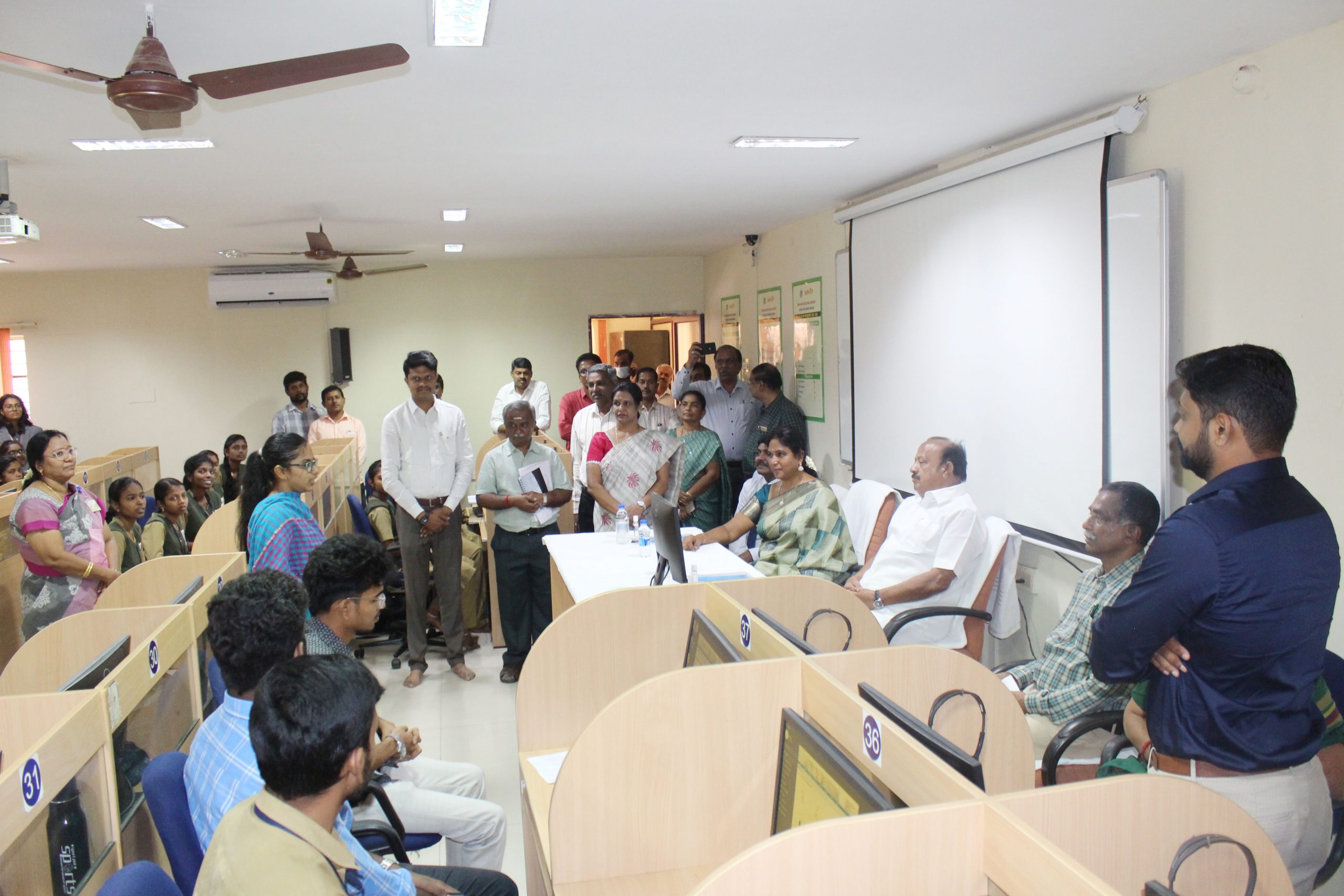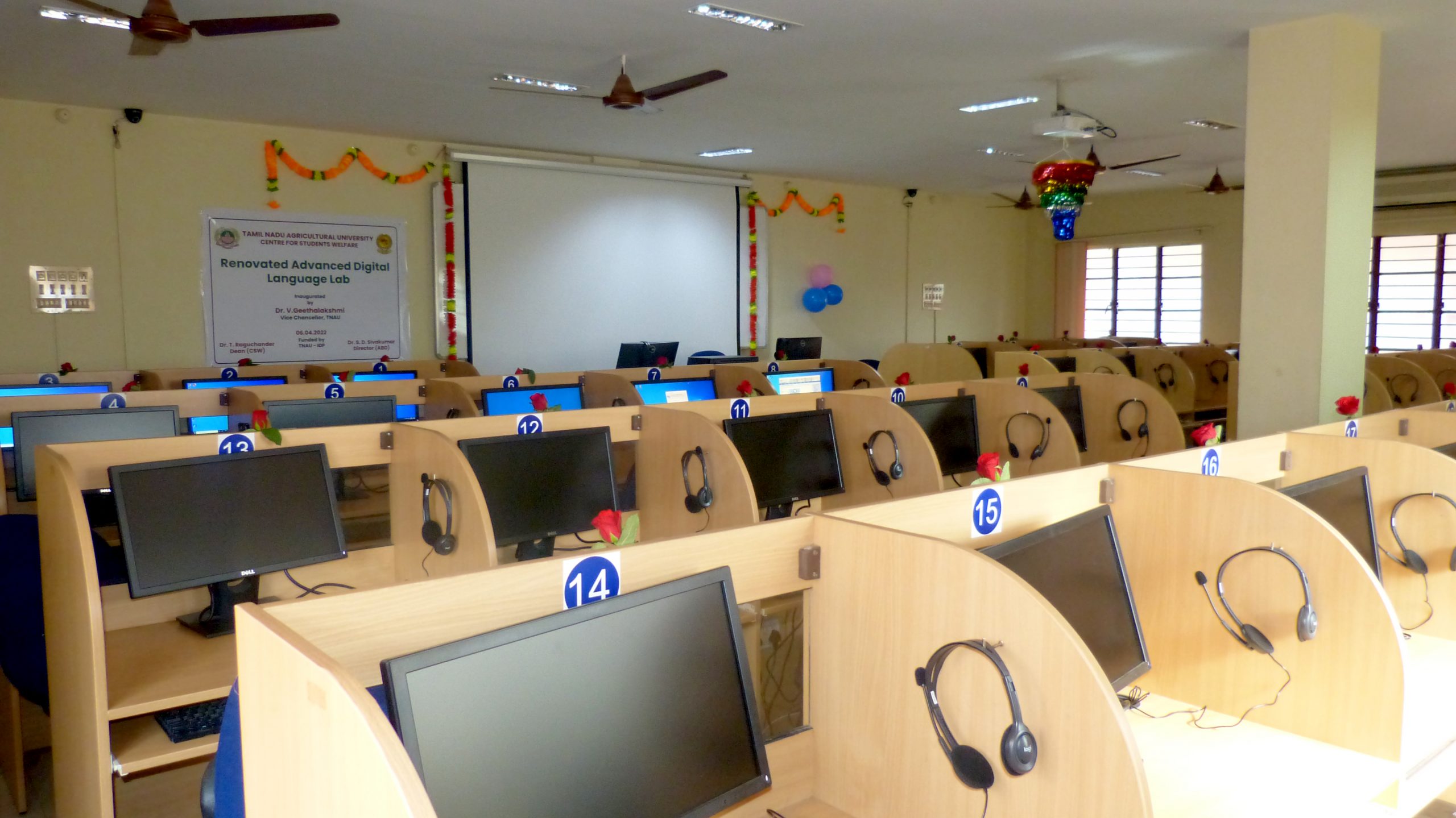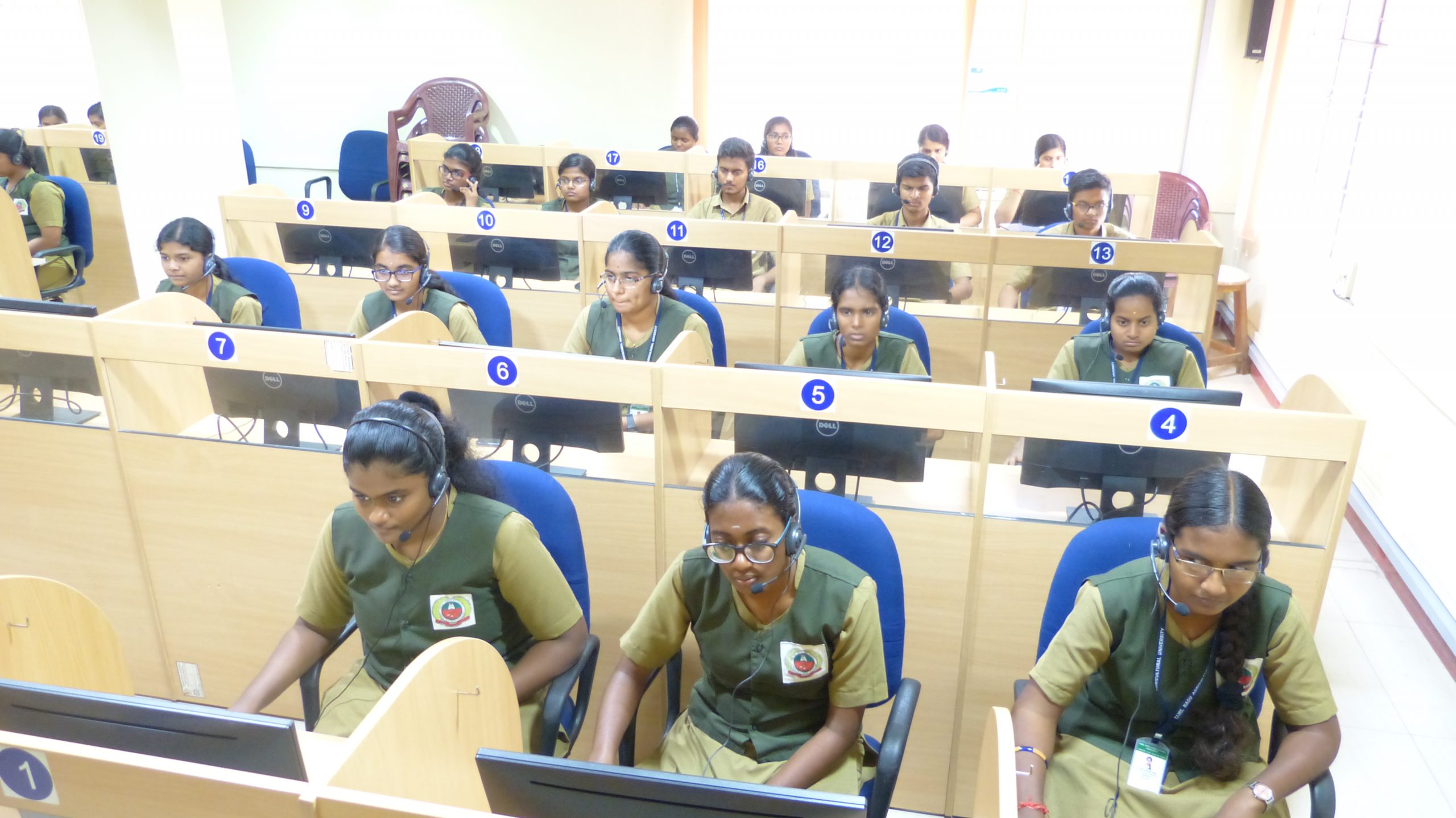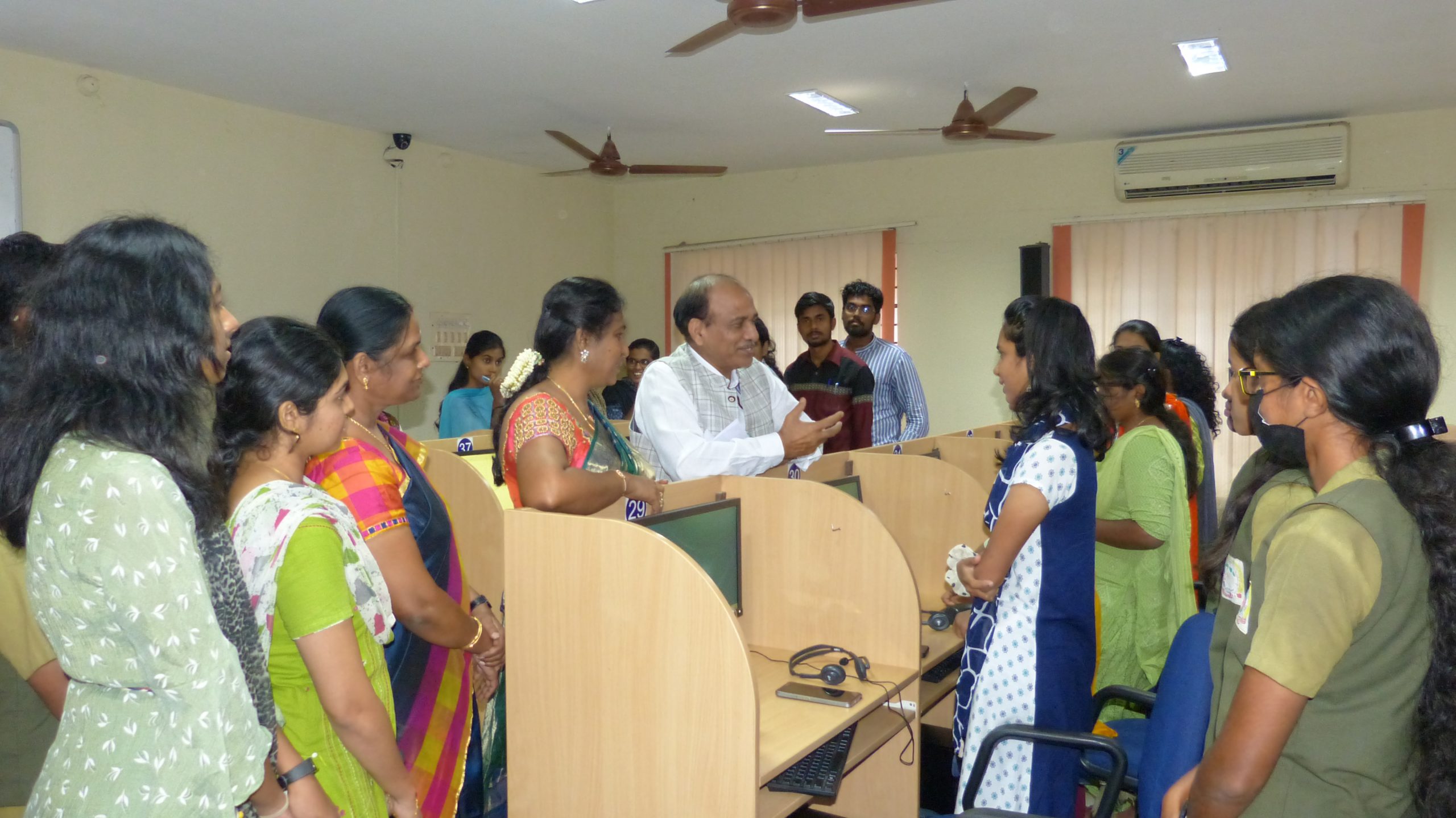 Communication Skills play a pivotal role in promoting employability of graduates in any educational programme. Particularly, students who opt for agriculture as their profession primarily hail from rural background and they should compete in the global market. To do so, they need strong communication skills. The employers of various agro-based industries, banking sector and multi-national companies have expressed the view that TNAU-graduates have depth of knowledge but lack of power of expression. The Advanced Digital Language lab of DSW was established in 2007 with an objective of sharpening the communicative and grooming the soft skills soft skills of our students for Placement, Higher education in India and abroad, and English language learning by means of self learning packages.
The lab is regularly used by teachers to impart English language learning and soft skills for all disciplines The lab is equipped with a Hi-Class net work software which enables the teacher to facilitate several classroom interactions. It has a good amount of authentic CDs on career skills/soft skills, competitive examinations and English language learning. While the study centre has printed materials on such themes, the Advanced Digital Language Laboratory supports them in the form of software.
What is an Advanced Digital Language Lab?
The Advanced Digital Language lab serves as a hub where the teacher and students are bridged through a cable networking system Hi-Class net work software for effective learning. It is an innovative method of teaching English with the assistance of sophisticated software that facilitates interactive teaching and effective learning. The lab carries audio and video systems which enable to achieve these objectives.
Teacher Console
This is the pivot of the Lab where in teacher monitors all the 41 work stations through oral, written and non-verbal modes of communication. The Teacher Console has two computer monitors, head phones and system equipped with software.
Work Stations
There are 41 work stations intended to handle a class size of 41 students. Each work station carries a computer and head phone and free access to interact with the teacher. The lab is equipped with a well knit public address system for effective teaching of regular English courses and coaching classes.
Classification of software
Communicative skills

Career skills and Soft skills

Higher education abroad
As the university has decided to establish an additional language lab in all the constituent colleges based on the model of the main campus, the Director and faculty undertook campus visit to all the constituent colleges.
Based on the recommendations/ suggestions given by the directorate the University has decided to establish Advanced Digital Language Lab at Agricultural College and Research Institute, Madurai.
Functions
Teacher has a complete control over all students' computers. They
Can broadcast lessons by a click.

Can arrange group discussions and workshops among students.

Can broadcast one student's activity to other students in the class.

Can go for voice-chat with a student without disturbing others.

Can save the teaching material for further use.

Can conduct tests and model examinations.

Can block or control all key boards and mouse of computers.
The Advanced Digital Language Laboratory of TNAU has a highly upgrade version of the H1 High class network software capable of carrying out a wide range of operations like broadcasting, intercom, observe, file transmission, recording, G-talk etc., in digital format. The Teacher Console has a web camera to carry out video conferencing and effective monitoring.
The Lab carries a permanent LCD that is used for a pep- talk by the teacher. Further, it assists him/her to provide on-line help in performing the task assigned.
Benefits of the Advanced Digital Language Lab
Effective learning of listening, speaking, reading and writing skills.

Multi-functional facility which can be used for coaching the students for TOEFL, IELTS, BEC, GRE and National competitive examinations.

The students are be trained in career skills like brainstorming, group discussion, and interview simulation.
Sl. No.
A. Network software

1.

Hi Class 4.0 For 40 Learners Software  

2.

Clear Pronunciation 1

3.

Clear Pronunciation 2

4.

Issues In English 2- International

5.

Study Skills Success

B. Communicative English

1.

Effective Communication

2.

ENG 101 English for Effective Communication

3.

Oxford Dictionary

4.

Spoken English

5.

Learning English

6.

Learning & Speaking English Ii

7.

8 In 1 English Dictionary

8.

Listening English 1

9.

English For Science & Engineering

10.

English Grammar

11.

Business English

12.

Learn To Speak English CD1,2,3 & 4

13.

Longman English Business Dictionary

14.

Listening English 2

15.

Language In Use

16.

Longman Pronunciation Coach

17.

New Interchange Audio CD

18.

Oral Communication Skills

19.

English Pronouncing Dictionary

20.

Oxford Practice Grammar

21.

Oxford Word Skills (Advanced)

22.

Oxford Word Skills Basic

23.

Peter Funk Word Power

24.

English Phonetics and Phonology

25.

Speaking English

26.

English for Presentation

27.

English Vocabulary in Use

28.

Telephoning in English Audio CD 2

29.

Telephoning in English Audio CD 2

30.

English Meetings

31.

The Theory of Everything

32.

 Public Speaking Skills- "Yes We Can"- Speech By Obama

33.

Freedom is Not Free

34.

Spoken English- Jayashree Balan

35.

The Greatness Guide

36.

Business English Meetings

37.

Face To Face- Cambridge University

38.

Speaking Accurately

C. Career Skills / Soft Skills

1.

Brain Teasers

2.

Career Smart

3.

Creative Thinking

4.

Group Discussion

5.

Interviewing Skills

6.

Negotiation Skills

7.

Positive Thinking

8.

Preparing for Being Interviewed

9.

Presentation Skills

10.

Psychometric Tests

11.

Reliving

12.

Stress Management

13.

Telephone Skills

14.

Presentation Skills- U.K.

15.

World Link Develop Engineering  CD 1

16.

World Link Develop Engineering CD 2

17.

Soft Skills Audio CD

D. Business English Certificate

1.

BEC Information CD 1 and 2

2.

Diagnostic Test

3.

BEC Cambridge Audio CD Preliminery

4.

BEC Vantage Master Class

5.

BEC Vantage Test Builder

6.

BEC Higher (Cambridge)

7.

Cambridge Audio CD 1 and 2

8.

Cambridge Teaching Recourses

E. GRE, GMAT, CAT and Civil Service EXAM

1.

New GRE 2011

2.

Barons GRE CD-Rom

3.

Cracking the GRE

4.

General Test Power Preparation

5.

GRE Exam 2006

6.

GRE 2009

7.

GRE Practice Test

8.

Higher Score on The GRE

9.

MCGRAW-Hill GRE

10.

Powerprep II-Revised GRE

11.

Test Preparation Course

12.

REA GRE

13.

Kaplan GMAT

14.

Barons GMAT 2009

15.

YAKSHA Common Aptitude Test

16.

Civil Service Prelims (YAKSHA)

F. International English Language Testing System (IELTS)

1.

IELTS Audio CD 1 and 2 – Test 1

2.

IELTS Audio CD 1 and 2 – Test 2

3.

IELTS Audio CD 1 and 2 – Test 3

4.

IELTS Audio CD 1 and 2 – Test 4

5.

IELTS Audio CD 1 and 2 – Test 5

6.

IELTS Audio CD 1 and 2 – Test 6

7.

IELTS Audio CD 1 and 2 – Test 7

8.

IELTS Audio CD 1 and 2 – Test 8

9.

IELTS Audio CD 1 and 2 – Test 9

10.

IELTS Audio CD 1 and 2 – Test 10

11.

Intermediate Listening Program CD 1 AND 2

12.

Objective IELTS Intermediate

13.

Vocabulary for IELTS

14.

Upper Intermediate Listening Program 1 AND 2

G. Test of English as A Foreign Language (TOEFL)

1.

BARRONS TOEFL

2.

CAMBRIDGE TOEFL

3.

CLIFF TOEFL

4.

Listening Links 1-3

5.

The Complete Guide To The TOEFL Test

6.

TOEFL – MCGRAW-HILL

7.

TOEFL 2009

8.

TOEFL IBT CD 1 KAPLAN

9.

TOEFL IBT CD 2 Audio Files

10.

TOEFL Official Guide